Concrete Pools Perth
Here at West Coast Custom Pools, we specialise in building quality concrete pools Perth and pride ourselves on the work we complete for our customers. Every one of our custom-designed concrete pool and spa brings together the best in design, construction and materials. Our catalogue of enthusiastic customers showcases our commitment to quality from start-to-finish.
The Benefits of Concrete Pool Construction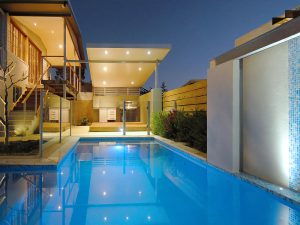 Our pools and spas utilise concrete construction to ensure an exceptionally high quality standard. While there are certainly other available options, concrete offers superior results – both in the look and the construction itself.
Have a look at all the great benefits of using concrete for your pool and spa:
Endless Customisation
Prefabricated pool configurations using inferior products like fiberglass mean that you're limited in your range of available choices. There are only so many different arrangements available at a warehouse, after all.
Unlike these limited choices, West Coast Custom Pools gives you more with concrete. A concrete pool will offer an unbelievable range of customisation that you can custom-tailor to your exact specifications. Your imagination is the limit for what type of pool and spa setup you can come up with.
Work with our team to discuss options, check out our past work and determine exactly what's right for you. Don't force yourself to choose from a list of inferior prefabbed units. Instead, get the exact option you've always wanted to achieve a beautiful and breathtaking pool and spa area.
Just the Right Look for Your Home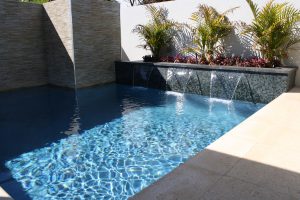 As mentioned above, concrete's versatility means that we can build a setup around your needs and wants – instead of the opposite. Concrete gives you the flexibility to find precisely the right look that matches your home and complements your style. This includes the pool's shape itself as well as all the bells and whistles for the surrounding components.
Have a look at a few of the wonderful options you have at your disposal:
Pool Shape
Pool Length & Width
Plaster Colour
Tile Shape, Style & Colour
Rock Edge or Other Custom Trim
Amazing Durability
Another great reason you should opt for concrete is because of its unrivaled durability. There's a reason concrete structures are the preferred material across virtually all building environments. It's because when you go concrete, you're getting an end-result that's truly built to last.
Pouring concrete pool setups means that you can rest assured you're getting a setup that's built to last for years to come. You won't have to worry about problems like cracks, rust, breaks or other issues that are typical with inferior installations. Instead, all you need to do is sit back, relax, and really enjoy the quality concrete construction.
No Warping, Shifting or Other Problems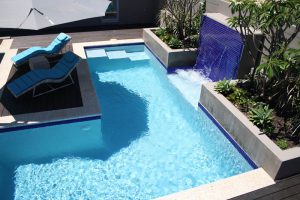 Many other materials used to construct swimming pools will change their shape over time. They could bend, warp or even crack in some areas. What that means is a shorter lifespan for your installation.
Do you really want to worry about pool repairs or replacement just a few years down the road?
Instead of setting yourself up for failure, concrete is built to last a lifetime. And this holds especially true when you rely on the knowledge and expertise of West Coast Custom Pools.
Added Value to Your Home
Your customised pool will also add direct and immediate value to your home's worth. Part of the reason is because of the high level of demand for a premium quality pool and spa. Everyone loves a well-constructed, beautiful, stylish pool area. After all, isn't that the reason you're having one built in the first place?
Should you ever choose to sell, a high quality installation will improve your home's curb appeal to buyers. And because you opted for a concrete pool, you'll see just how amazing this option is for longevity for years to come.
Concrete Pools Perth – Contact Us Today
As you can see, concrete pools showcase all the best in quality, durability and customisation potential. When you invest in concrete, you're investing in an asset that's built for beauty, style – and to last for years to come.
To learn more about all the amazing pool customisation options you can install at your own home, contact West Coast Custom Pools today. From relaxing oasis escapes to lap pools designed for athletes, we'll help you come up with the solution perfectly-suited to you and your family. We look forward to helping you achieve the pool of your dreams.
See what our team have design and built